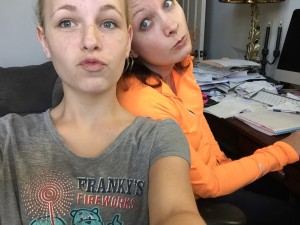 Acne sucks.  Yes, I said it!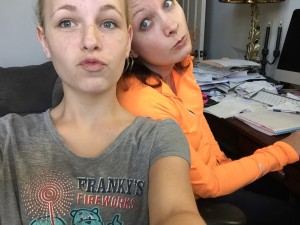 As someone who has had uber fair, oily, sensitive skin my entire life, acne was something I battled with from the age of 11 onward.  I was so self conscious of my skin that I didn't get in any baby photos after the birth of some of my children.   I saw numerous doctors and dermatologists over the years for it, but nothing *really* seemed to work for me.  So,  I  experimented with every new product or diet on the market for more years than I care to admit to.  I FINALLY found a winning combination however, and I am happy to share it with you.
Cystic / hormonal acne can be deep, painful, red, and it can even scar.  It does have a genetic component, so if either parent had it, you are more likely to have it yourself.  Hormones certainly exacerbate it, and are the leading trigger for many people.  In fact, many teenage girls are put onto birth control pills under the auspices of [hopefully] controlling their acne.  There are dietary triggers, and food allergies certainly play a role, however both contribute to inflammation – which also makes acne worse.  So barring getting hundreds of dollars worth of food allergy tests (although I do recommend those), I am going to cover what you can do at home, today, to turn your skin around but before I do, I would be remiss without mentioning conventional treatments.  People with cystic /hormonal acne commonly have overactive sebaceous glands, and they may also have bacterial overgrowth or imbalances on the skin.
Conventional treatments typically include antibiotics, steroid injections, medications such as retinols or Accutane®, hormonal birth control pills, and various other topical preparations. All of these have their own associated potential side effects, the most common ones are photo-sensitivity, headaches, dry eyes and mouth, gastrointestinal issues, peeling or painful skin, depression,  allergies, yeast overgrowth, muscle pain,  and infection.  Hormone based birth control also has additional side effects which you should discuss with your prescribing physician.
So, what can you do about it?  The answer is a lot, actually.  Let's start with diet;  it needs to be cleaned up.  Eliminate as many processed foods as possible.  The biggest allergen that I have found in my office is dairy.  Eliminate it for 1 month and see how the skin does.  It takes at least a month of ZERO  dairy (no cheating!)  to really get a good idea if dairy is your issue.  Remember though, dairy is hidden in a lot of foods, and some people are horrible at avoiding it (ahem, teenagers, I am calling you out on this!).    I suggest increasing your intake of fresh fruits and vegetables, and adding fresh lemon to your drinking water.  Using neem soap, and applying a mask of raw honey or a probiotic paste once a week for 20 minutes can improve the skin ecology by reducing bad bacteria.
My skin improved with all of these things, but it never totally turned around until I stumbled on the following  trifecta.  I will preface this by saying that I have a much deserved reputation for finding odd-ball products that no one has ever heard of.  I certainly love to experiment, and I LOVE Asian and Korean skin care products.  I have read industry reports that they are typically 10 years ahead of the curve as compared to American skin care, and I believe it.  I have rarely been disappointed with any of my Asian skincare or cosmetic purchases.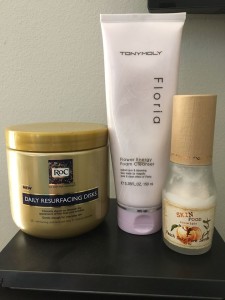 My daily routine is very simple: First,  I use Tony Moly Floria Cleanser .  It is an opaque white cream and you literally use less than a centimeter of it because it is so heavily concentrated.  One bottle lasts me approx. 10 months with daily use.  Second, I apply two pumps worth of Skin Food's Peach Sake Pore Serum.  It is a product designed to reduce oil production in the skin, and a bottle lasts 45 +/- days for me.    I apply my make up over it once it dries.  Now twice a week, I use  Roc Resurfacing Disks  on my skin before bed.  This helps to eliminate all of the debris that accumulates on the skin over the course of the week.  I'm frugal – so I cut them in half, therefore, a tub of 28 lasts a LONG time!  That's it!  As you can see from my candid, unfiltered photo, my skin is the best it has ever looked, and I think it looks pretty good for being 40.  My daughter, who also struggles with acne, follows my regimen now, and you can see her teenage skin has done well with the system too.  In fact, as I worked on perfecting this over the past year, I have recommended it to several of my clients, and they have all reported massive massive improvements with it.
So, if acne is something you struggle with, and you have tried everything else, give this a shot.  All three items are priced at  $11 or less including shipping, and some last a very long time.  I can say easily say that it has been the hands-down best skincare system I have found thus far.
*Clicking on the BLUE names of the Products above will take you to their sales page on amazon.  These are not sponsored links.  I receive no compensation for recommending them to you.
** Whenever you start a new skin care regimen, your skin can initially break out as the acne  'brewing' in various stages within the skin needs to come out.  This is temporary and is to be expected.  As always, please seek the counsel of your physician if you have any issues or concerns.