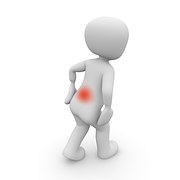 Chronic pain may be one of the most underestimated health issues there is, but many sufferers are only looking for a quick fix and an easy pill but that won't buy them relief – it only postpones pain and further degeneration.
Now, if I were to categorize people with chronic pain – we can say that they often have an underlying autoimmune issue. They are commonly over weight – even as little as 10 lbs over their ideal weight can cause issues for them. They usually don't have the best diet, and they frequently have a sweet tooth. Some don't get out and move enough – they say the pain prevents them from doing so, but in medicine there is an adage — "move it or lose it", and this is certainly true. You have to exercise to challenge your abilities, or you will lose the level of mobility that you currently have. It won't get better if you do nothing!
So, if you have chronic pain, this is something that you may not want to hear – you need to clean up your diet. Diet alone can cause an 80% improvement.
80%! Did you catch that? Exercise is only 20% of the equation.
Chronic pain specialists have been putting their patients on low-glycemic diets for years, and there is a very good reason for this – sugar is highly inflammatory. Not only does it cause systemic inflammation, but it irritates every vein and artery in your body. It hyperirritates your muscles. Each tablespoon of sugar suppresses your immune system for 4-6 hours. In simple words – it feeds your pain.
But sadly, many people would rather keep their cheesecake and sodas than change their diet.
Let me be blunt – sugar in all its forms is inflammatory. It doesn't matter if it is honey, agave syrup, corn syrup, molasses, fructose, dextrose, maple syrup, grape sugar… just because you think it is 'natural' that doesn't mean it is not sugar!
Artificial sweeteners are no better – they are both excitatory and neurotoxins. They will make you feel worse!
So, what is a hurting person supposed to do? First off – cut the sugar. This will be the toughest thing I ask you do to because sugar is hidden in everything and you have to become a master of reading labels. Second, look at minimizing these foods from your diet : milk & dairy, soy, trans fats, beer, fried foods, night shade vegetables, and processed foods. If you are hypothyroid, consider a gluten-free diet as well. Limit caffeine to 1 serving per day. When you are highly inflamed, excess caffeine will irritate you!
What does this leave you to eat? Lots! Make dark leafy vegetables a key part of your meals. Cold water fish, raw nuts, avacados, sea vegetables, ginger, berries, cherries, turmeric, flax seed oil, olive oil, etc. should all become routine parts of your meals. Eat the rainbow! Eat at least 2-3 things raw every day! Take vitamin D supplements until your vitamin D level is between 50-75 nmol/L. All of these thing will have you feeling like a million bucks!